Fighter finds meditation in movement | Community – ECM Publishers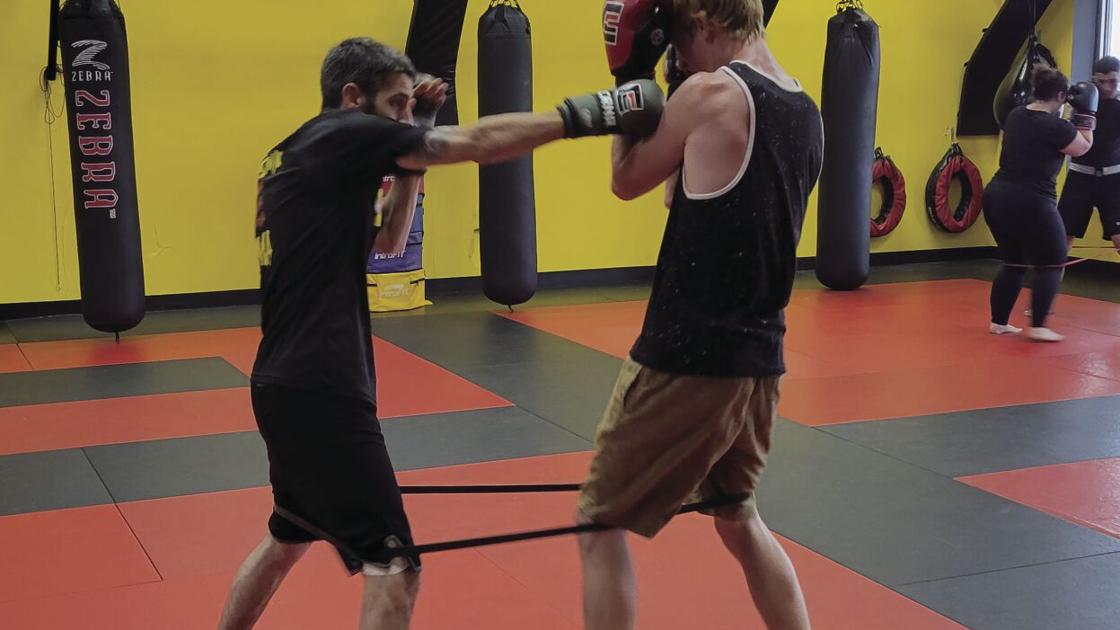 Left jab. Feel out the distance.
Circle left and jab again. Feint.
It's a contact sport, but mixed martial arts (MMA) has been an oasis for Mound's Mike Selle, who called it his "moving meditation."
Meditation—calm, he specifies—is what he's needed a lot these past few years.
It's Thursday evening and Selle is recounting a period in his life shaded over, first, by falling in with a "rougher" crowd and, later, by alcoholism.
He's adjusting and readjusting the fit of the gray Fairtex hand wraps he's wearing. "I've been in some trouble in the past," he says. "No felonies—but most of my friends have felonies, criminal pasts." Selle says his own name has carried DWIs and that he's crashed a car or two. "Some bad times," he says.
Selle, now 40, had grown up here in Mound. His parents divorced when he was 10 and Dad wasn't around a whole lot, he says. He played hockey until smoking earned him a suspension and he had a falling out with the coach. He was dropped from the team and then transferred to an alternative school for the last part of high school.
There was a period, too, when alcoholism maintained a hold over him. "I've had a lot of those mornings where you wake up and people don't want to talk to you anymore," he says.
Four years ago, Selle moved back home to Mound with his daughter, now 13, and son, now 6. He was looking for a fighting gym and it chanced that Merrick Morlan was opening his MMA gym, 3soteric, at the time. Selle remembers having poked his head inside before Morlan had even fully opened it to the public.
"Merrick to me has been like a big brother, kind of a mentor. He's very quiet, subtle, very stoic but very wise…" Selle pauses, adds "he's very calm. He's helped a couple guys through here."
Fighting was the outlet he needed for all the negatives that were clouding his mind, he says, and he poured himself into the sport, training 2-4 hours most nights.
Training then turned into competing. Selle had his first kickboxing bout almost three years ago. "I've always been the type to touch the fire to see if it burns," he says.
But Selle "lost his first three fights, pretty badly," recalls Morlan. Morlan says that his trainee had the skill and toughness to win but that he was losing because he wasn't in the mind frame he needed to be in to win.
Selle made changes to his thinking, began making better choices, he says. And he won his next three fights, these in the Thai Boxing Association Championship.
Selle then brought his kickboxing and Jiu Jitsu to Fort Dodge, IA where he had his first amateur MMA bout this May, at age 40 and fighting as a bantamweight at 130 pounds. He delivered an up-kick from the ground to the head of a man 13 years his junior and won by second round knockout.
Selle also just earned his 7-year chip in AA.
"It keeps me out of trouble, it keeps me sane […] this is more than just kickboxing and fighting and getting in shape. It's mental," says Selle.
It's "moving meditation."
"I've always been the person who's open to criticism, and I tell people now, that's one of the main things that got me to stop drinking was constructive criticism," he says. "And if you're an open person like I am, you can actually take that in and really look at yourself and that's how you change to making better choices."
Morlan, too, says he's seen the changes in Selle, from a man who wouldn't help anyone very much to one who will now put everyone else before his own training and who has stepped into an almost leadership role for the gym's other fighters.
"They know he's older than most of them, and they assume he's been fighting since he was 20 because he's older, right? And he fought for a belt, and he's already won six fights, so he must've been fighting since he was 25—they make these assumptions," says Morlan. "And he knows so much. They know he's the guy to come and ask."
"I'm a big guy. But he can take me out," admits Maxwell Savage.
Savage, one of Selle's training partners at 3soteric, is more than 20 years younger and taller by a head but he's out of breath after three minutes' sparring with Selle, who is unfazed and already looking his next partner. "He's like a little ninja," adds Andy McMaster, another of Selle's training partners.
"I move and see what they do. That's how I fight. I get you to miss," says Selle. In his element now, out in the main gym, he's completely at ease—he's not playing with the hand wraps anymore. His daughter is training here tonight, too and sometimes his son is also there, watching his dad throw punches and be a go-to man for the others.
With every win, the opponents will only get tougher, but that's the sport, says Selle. "I just pray I don't get hurt and can continue doing this for the next couple years." The goal now is to get at least one pro fight in there, maybe next year. Something to tell the grandkids, he jokes.
Selle fought on the main card at Brutaal Genesis' Aug. 7 fight night in Fort Dodge, IA. Dylan Smerillo, a 3soteric lightweight, also fought.