Lady Tron's reopens in downtown New Albany | News | newsandtribune.com – Evening News and Tribune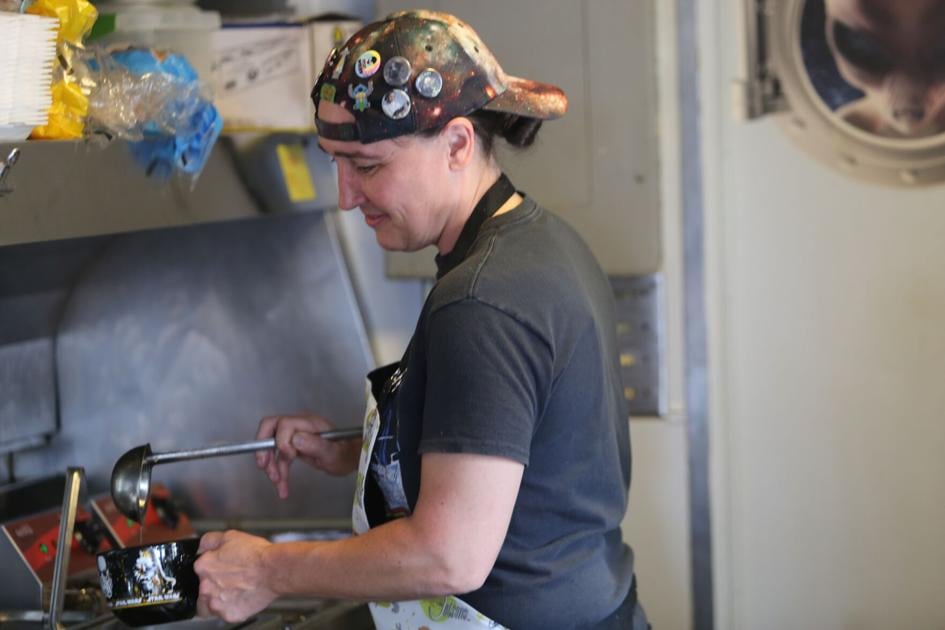 NEW ALBANY — A soup and sandwich shop in downtown New Albany has reopened for the first time since it closed during the pandemic.
Lady Tron's at Market and Bank streets reopened Thursday after closing its doors in March of 2020.
Summer Sieg, Lady Tron's owner and chef, began the restaurant about five years ago. The menu features creative varieties of soup and sandwiches.
The small space is filled with retro sci-fi and outer space-themed memorabilia ranging from "Star Wars" action figures to a "Mork & Mindy" lunch box.
At the start of the pandemic, Lady Tron's offered takeout, but it closed in late March.
"At the very beginning, it was like is this just going to be for a few weeks, and after it was like, no, this is going to be a long thing," Sieg said. "After that it was scary with the fact that it was a lot of applying for grants and small business loans."
She did receive small business loans and grants that helped her stay afloat during the closure. A $10,000 loan from the Caesar's Foundation was a big help, Sieg said.
"If I hadn't gotten those loans and grants, I wouldn't have been able to reopen," she said. "I still had to pay the bills."
Lady Tron's is a tiny space that only offers seating at the counter, so it was not set up for social distancing. She also didn't think it would be worth it financially to just offer carryout, Sieg said.
She is excited to reopen now that things are getting back to normal and she and her co-worker at Lady Tron's are vaccinated.
Lady Tron's is in a prefabricated diner built in 1957 by a company called Valentine Manufacturing. It was home to a diner called Little Chef for more than 50 years.
Sieg describes her food as "different and delicious."
Menu items range from the "LT," a "huge and messy" sandwich with maple ground beef, applewood bacon and queso topped with potato chips and chipotle cream sauce, to the "Leia," a grilled cheese with muenster, brie and apple butter on cinnamon raisin bread.
The specials are constantly rotating, and Sieg said she probably offers 100 different soups a year. On Thursday, specials included a jambalaya soup, cauliflower and truffle oil soup and a chilled blackberry soup with goat cheese, basil and balsamic.
"It's kind of gourmet but in a sci-fi diner, retro diner," she said. "[We have] ginormous portions."
The main menu is mostly the same as before, but a gouda grilled cheese that was often found on the specials board is now on the regular menu. Some of the prices have gone up out of necessity, Sieg said, but all of the options are under $10.
She believes Lady Tron's will be "busier than ever."
"At the beginning of last year before COVID, the first three months of that year was the busiest I'd been compared to the previous months, and it was just continuously getting busier and busier — just more regulars, more customers, word of mouth
"I think that we're just going to be knocking it out of the ballpark," Sieg said. "That's what I hope, anyway. People are ready to go out and eat, and they have been."