Pre-game meditation has helped the Bend Elks become one of the hottest teams in the West Coast League – Bend Bulletin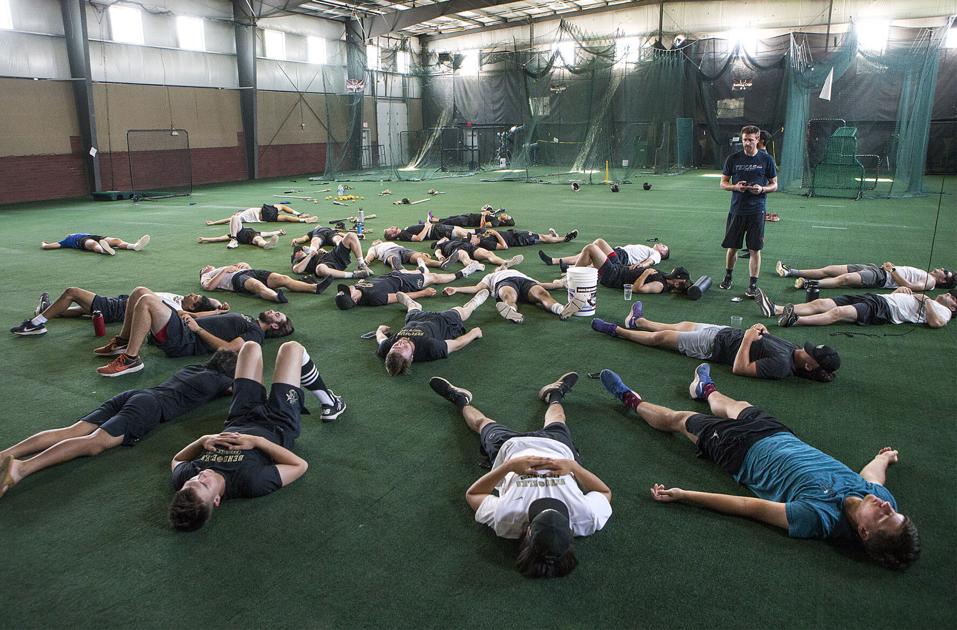 About three hours before the first pitch against the Corvallis Knights on Wednesday afternoon, the Bend Elks looked as though they were collectively taking a nap on the turf of the fieldhouse at Vince Genna Stadium.
But the two dozen or so players were not napping, they were meditating, which has become common practice prior to their games over the past couple of weeks.
"I would do it a little bit here and there, but never as much as this," said Elks pitcher R.J. Gordon, who spends his springs playing for the Oregon Ducks. "It helps you out mentally. Everyone is good out here physically, we are all college athletes. But it's the mental side that separates good teams from bad."
With the players lying down or sitting in the dim and quiet room, assistant coach Tyler Graham maneuvered around, guiding them through a 15-minute meditation session. He told the group to "bring attention to something that isn't a thought" and "allow your mind to get quieter, calmer."
"In a world where a lot of things are going on, you want to get to this stillness, this calmness," said Elks head coach Kyle Nobach. "You don't let outside things distract you from what you are thinking and feeling. We want to be in control of our mind and not let our mind control us."
On the baseball field there can be plenty of chances for the mind to wander — replaying a fielding error or an earlier at bat that ended in a strikeout, or reacting to heckling fans in the stands.
"The biggest thing is you are able to recognize when you are distracted," said assistant coach Joey Wong. "That is the whole point of it."
The mental preparation game is a trick of the trade that Nobach, Graham and Wong — all former Oregon State baseball players — picked up during their playing days. Nobach said he and more than 20 of his OSU teammates would meditate daily while playing for the Beavers, a routine he has continued into his coaching career.
Wong and Graham were in professional baseball working with performance coaches such as Alan Jaeger and Andy McKay (currently the director of player development with the Seattle Mariners) when they picked it up.
"I wish I started doing it when I was these kids' age," Wong said. "I didn't start until 2015 when I was with the Rockies playing pro ball. I was pretty stagnant and looking for an edge. It helped me refocus, helped me be more present and address the thoughts in my head."
During a home series with the Ridgefield Raptors, the Elks brought in Collin Henderson, author of "Master your Mindset," to teach the current players about how the mind is a more powerful tool than the body.
When lying on the turf, Gordon — who struck out a season-high 11 batters Tuesday in the Elks series-opening win against the Corvallis Knights — plays out the game he is about to play in his head. At times, everything is going well and all his pitches are strikes. Then he plays through the rough patches in the game, when runners are on base and he needs to be at his best.
"Every game scenario I can think of," Gordon said. "That way when I take the mound I've already lived through them once."
Perhaps it is the meditation, but since starting that pre-game routine during a home series against Ridgefield in mid-June, the Elks have become one of the hottest teams in the West Coast League.
After starting the season off winning just one of their first 10 WCL games, the Elks have now won seven of nine games and their last three series, with series wins over the Wenatchee Applesox, the Bellingham Bells and the Cowlitz Bears.
The biggest change over that stretch, Nobach said, is the players getting more comfortable with one another and starting to buy into the program.
"When you focus on the team and you are playing for the team, the level of play is going to increase because you aren't putting pressure or anxiety on yourself," he said. "Rather you are performing for your teammates, and that takes time."