13 Keto and Low Carb Cheesecake Factory Options – Greatist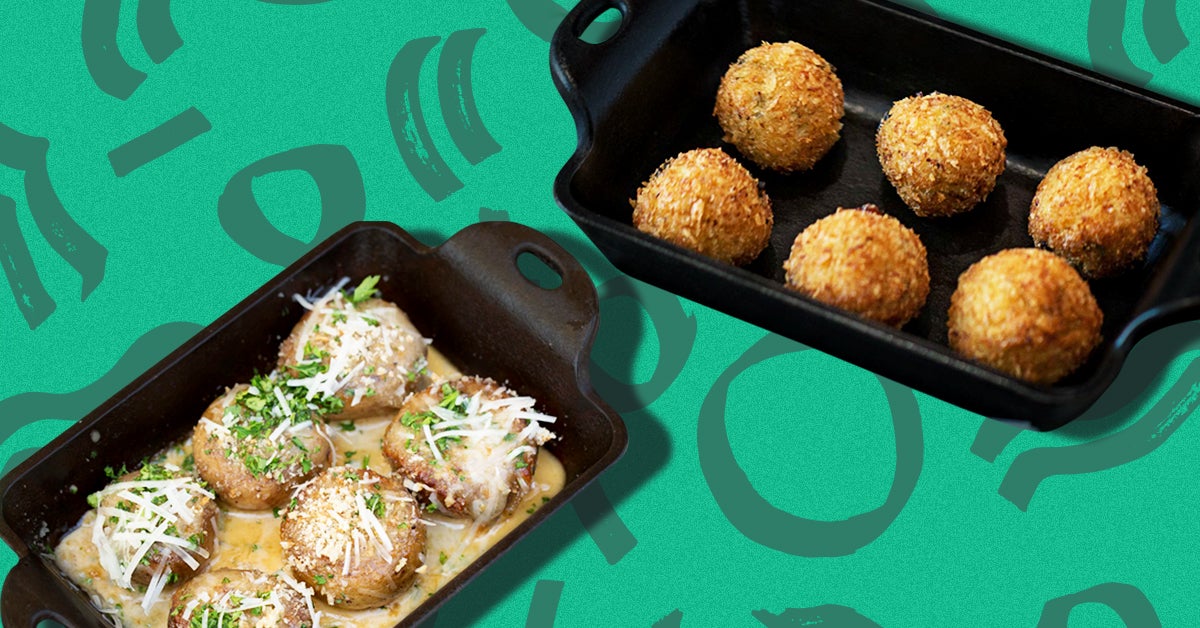 If you've switched to keto or Team #LowCarb, dining out might feel a little tricky.
Fortunately, there are legit low carb options almost everywhere — even at a restaurant named after a dessert. Keto at The Cheesecake Factory? Love that for you.
The Cheesecake Factory's never-ending menu is already overwhelming, so we did the required reading for you. Here are our fave The Cheesecake Factory noms under 50 grams (g) of total carbs (or 25 g of net carbs).
Whether you're here for the happy hour appetizers or just hankering for a pre-dinner snack, these low carb apps have your back.
Crispy crab bites
These itty-bitty crab cakes come with a side of tasty low carb mustard sauce. It's not a giant serving, so you could either order it as your meal or as a snack to split before another keto-friendly course.
These crispy crustaceans have:
410 calories
15 g protein
31 g fat
19 g total carbs
2 g fiber
17 g net carbs
Stuffed mushrooms
Is there anyone who doesn't love a good forest fungus packed with fontina cheese and warm garlic? How about if we add wine sauce? (Thought so.)
Seriously, the perfect balance of protein and that creamy sauce make this a delightful little keto hit. *chef's kiss*
This plate of 'shrooms delivers:
510 calories
15 g protein
42 g fat
19 g total carbs
4 g fiber
15 g net carbs
Buffalo wings
Protein? Check. Spicy? Check. A *giant* plate of meat that will make you forget you were craving carbs? Maybe!
Most folks split this meaty appetizer and then chase it with a veg-heavy main dish. But you do you.
A full order of wings includes:
1,120 calories
109 g protein
69 g fat
16 g total carbs
2 g fiber
14 g net carbs
Let's dive into the main course.
Tuscan chicken
This protein-packed dish includes grilled chicken, fresh veggies, and farro drizzled with a punchy balsamic vinaigrette. The three main elements come together for a light but super-filling meal with a great balance of macros.
Here's what you'll get from this low carb feast:
590 calories
81 g protein
21 g fat
19 g total carbs
5 g fiber
14 g net carbs
Pan seared branzino with lemon butter
Branzi-what? Branzino is a delicate white fish that belongs in your seafood rotation if you haven't tried it yet. The lemon butter sauce is a classic fish accompaniment, as are the spears of asparagus or fresh broccoli florets served on the side.
This zesty fish dish delivers:
880 calories
47 g protein
71 g fat
14 g total carbs
4 g fiber
10 g net carbs
Grilled branzino with Mediterranean salsa
More branzino! If creamy lemon sauces aren't your thing, try this seafood dish with tomatoes, garlic, and olive oil instead. Clocking in under 10 net carbs for the whole dish, this is one of the most keto-friendly items on the menu.
This satisfying seafood has:
540 calories
56 g protein
28 g fat
14 g total carbs
5 g fiber
9 g net carbs
The Cheesecake Factory's main gigs are lunch and dinner, but did you know they have breakfast too?
Farm fresh eggs with Old Smokehouse bacon
Two whole eggs + tomatoes + thick, old-fashioned bacon? It's keto heaven.
Just remember that eggs are all about moderation. If your keto plan has you poppin' hard-boiled noms for breakfast, lunch, and dinner, it's time to change it up. Otherwise? Enjoy this filling low carb breakfast.
This morning meal delivers:
470 calories
29 g protein
36 g fat
7 g total carbs
0 g fiber
7 g net carbs
Spinach, mushroom, bacon, and cheese omelet
Think you don't like eggs? We dare you to try this fluffy omelet. Naturally low carb, it's packed with protein, healthy fat, and plant-based nutrients from mushrooms and spinach.
This eggcellent brunch has:
700 calories
41 g protein
57 g fat
7 g total carbs
1 g fiber
6 g net carbs
Salads seem like they should be naturally keto-tastic. But not so. That pile of lettuce has nothing on the croutons, avocado, and sweet/tangy/creamy/carb-loaded dressing on top.
Fortunately, you *can* have a keto-friendly salad if you're careful about modifications. Try these two options from The Cheesecake Factory.
Tossed green salad with SK mustard vinaigrette
The Cheesecake Factory's tossed green salad is so #wholesome. Greens, sliced veggies, and chunks of fresh tomato are drizzled with a refreshing vinaigrette. Just don't forget to ask your server to leave off the croutons!
This plate of green goodness delivers:
180 calories
5 g protein
10 g fat
10 g total carbs
4 g fiber
6 g net carbs
Cobb salad
Talk about a heaping helping of veggies and protein! This Cobb includes chicken breast, blue cheese, bacon, eggs, and more, all tossed in a vinaigrette.
Here's how the Cobb salad *with* avo stacks up:
1,540 calories
74 g protein
124 g fat
35 g total carbs
11 g fiber
24 g net carbs
The secret to a low carb burger is leaving the bun behind. Bonus points if you swap the side of fries for a salad.
SkinnyLicious hamburger (no bun)
The Cheesecake Factory sells its wheat brioche hamburger buns separately, so we used the buns' nutrition label and the restaurant's nutritional guide to figure out how to make a truly low carb hamburger.
Topped with classics like tomato, onions, pickles, and mayo, here's what it adds up to:
350 calories
28 g protein
23 g fat
7 g total carbs
1 g fiber
6 g net carbs
Factory turkey burger (no bun)
Once again, removing the brioche bun makes this burger low carb and still delish. You can still enjoy fresh mushrooms, garlic, charbroiled fontina cheese (🤤), and even a bit of avocado.
Sink your teeth into these nutritional stats:
890 calories
45 g protein
50 g fat
24 g total carbs
5 g fiber
19 g net carbs
Nice try. TBH, there's nothing keto-friendly or low carb about desserts at The Cheesecake Factory.
When your sweet tooth is screaming, these are the best options (but again, they're *not* low carb):
Low-Licious cheesecake (570 calories, 30 g net carbs)
Bowl of fresh strawberries (250 calories, 21 g net carbs)
Kids' mini hot fudge sundae (480 calories, 42 g net carbs)
If you drink booze, your best bet for dessert is actually an alcoholic bevvy. The restaurant's SkinnyLicious Long Island iced tea clocks in at 110 calories and just 6 carbs.
Dining out is tricky when you're following a keto or low carb plan. Here are some tips for dialing down the carbs on a variety of menu options at The Cheesecake Factory: