Innovative hybrid learning tools put STEM students in the action – Verizon Communications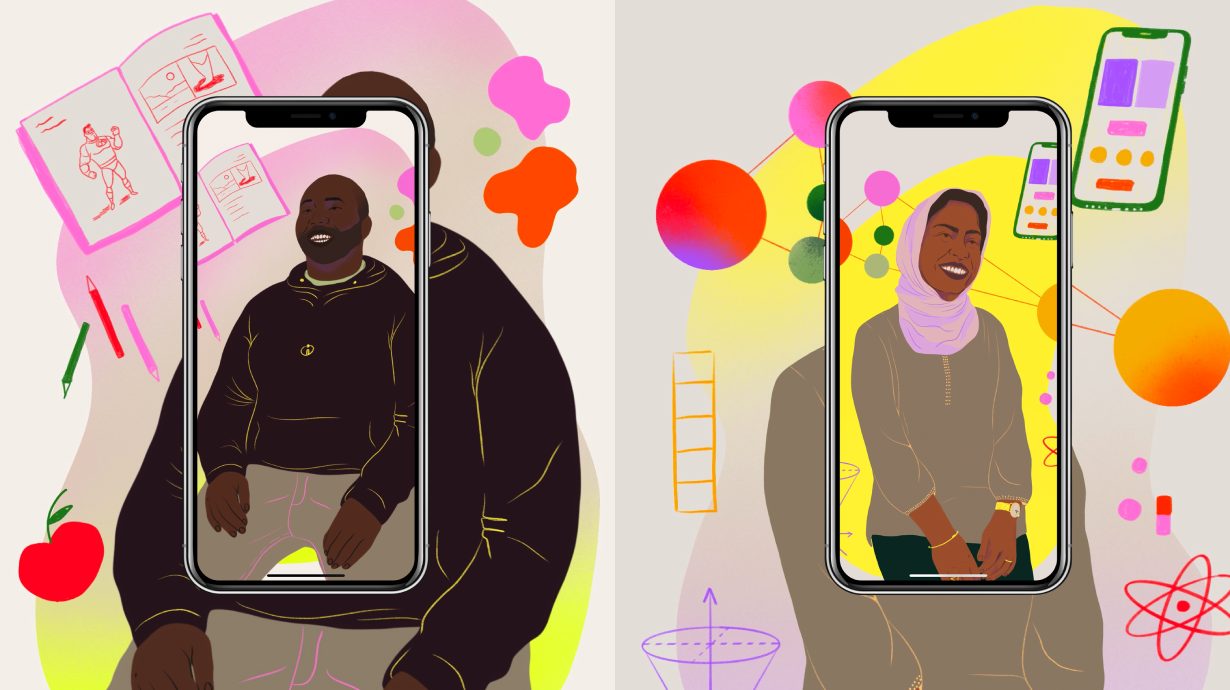 Imagine having an award-winning animator hanging out in your house. Not on your television, but sitting in the living room telling you about his aspirations. It sounds unlikely — especially at a time when the COVID-19 pandemic has put an end to safe home visits. But it's entirely possible if you are a student utilizing the innovative new Career Day app from Verizon Innovative Learning.
Part of responsible business plan Citizen Verizon, this augmented reality (AR) application is one of the latest innovations being rolled out by Verizon Innovative Learning, created by Verizon Media's Emmy Award®-winning innovation studio Yahoo Ryot Lab to make virtual learning more exciting and interactive. Hybrid learning puts traditional career days out of reach, but this app is the career day of the future. It contains various episodes, each featuring a hologram of a different person with an impressive career in creative or STEM related fields. They include Saba Zaidi (an interaction designer who helped create Google Assistant) and Frank E. Abney III (a former Pixar animator whose credits include Soul and Toy Story).
Beyond the visual of the hologram, other elements add to the sense of it being a real experience, including the chance to "talk" to the holograms. Prompted by words on the screen, the user asks questions out loud and the hologram, in turn, replies. So the experts not only share their work inspirations, but divulge facts about how they got into STEM and the challenges and triumphs of their personal journeys.
"We're trying to do something that really gives the viewer the illusion of contact with the person," says Asad Malik, Director of Career Day and CEO of 1RIC, the company that produced the experiences on the app. "Augmented reality means this is not something you're learning about in a school book, but an experiential moment where a certain part of your brain thinks you are having a conversation." Students can use those intimate conversations with experts to explore careers they never dreamed of. And they will walk away from the experience with more than just an understanding of what someone does for a living — they'll learn just how important that work is to the world and how they can make their own mark.
The Career Day app is aligned with Common Core standards and also helps reinforce literacy and language skills. It recently launched in select Verizon Innovative Learning schools and additional episodes will be rolled out throughout the year.
Career Day, produced by RYOT, in partnership with Augmented Reality studio 1RIC, and Los Angeles-based volumetric capture studio METASTAGE, is one of many new Verizon Innovative Learning tools helping teachers navigate remote instruction. And while chatting with a sports legend is great, so is becoming the kind of marine biologist that is only possible through technology. Aurelia, another augmented reality app created by Yahoo Ryot Lab, Current Studios, and 1RIC (also directed by Asad Malik and made in collaboration from an actual marine biologist), lets students go on a deep sea adventure. Aurelia is meant to enhance teacher-led immersive lessons on marine biology.