Shop Security: Key products to bolster your store's defenses – CyclingIndustry.News
According to the latest data from Urban Jungle, claims for bike theft have risen by 125% in the past three months leading up to October. Figures compiled for the first half of 2020 by national cycle database BikeRegister also revealed a significant rise in reported bike theft. For example, in October alone, reported bike thefts were up by 69.4% on 2019.
Data obtained from Stolen Ride also shows a ten year high in bike theft according to MET police, with huge spikes in reported theft in August and September as the UK came out of its first Covid-19 lockdown period.
In these difficult trading times, bike shops need to take advantage of new technology to protect their stores and staff.
SelectaDNA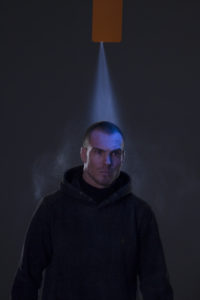 SelectaDNA intruder spray is a colourless, quick drying, harmless mist which can be used to link an intruder and or thief back to the scene of the crime with its innovative DNA liquid that is unique to that particular site.
The intruder spray can be activated in two ways to work effectively in both night and daytime break in situations. For example, the intruder spray can be linked to the shop's existing security system and placed above an entrance. Once an intruder breaks in through the entrance and walks underneath the spray head, the spray will be activated, covering the intruder with the DNA liquid.
To combat the rise in daytime break-ins, shops can alternatively give staff a wireless panic belt which can be activated by the staff if they see a theft taking place.
To get your hands on the innovative intruder spray, bike shops can contact SelectaDNA directly who will then lease with the existing alarm company to arrange for installation.
The SelectaDNA intruder spray was used in Manchester in 2018 as part of a police operation to protect high street businesses. In just nine months (Jan-Sept 2018), crime was reduced across the city by nearly a quarter (24%), and most importantly, all the retailers in the trial were not targeted a single time in 12 months.
In addition to modern security technology such as sprays and smokes, retail premises also need to register their stock so that it is easily traceable and returnable if it is stolen.
BikeRegister
BikeRegister is a leading online bicycle identification and registration initiative aiming to reduce bicycle theft and identify stolen bikes across the UK. Currently, it has over 990,000 bikes on its database, and is used by all UK Police forces.
Independent bike stores can register their bike stock on BikeRegister for free at bikeregister.com, which immediately gives bike shop owners a link back to the store in the event of thieves removing stock from the premises and/or trying to sell the bikes on.
The three security kits offered by Bike register include the Membership Plus Kit (£12.99), the Permanent Marking Kit (£19.99) and the UV Covert Kit (£29.99). Additional information can be found on the Bike Register website.
Hiplok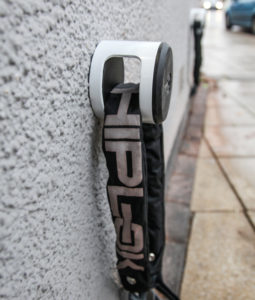 Alternatively, bike locks can be an extremely successful deterrent to bike shop thieves. Hiplok offers an array of premium security products from categories that include D-locks, folding locks, chains and cables. The firm's Z LOK and AIRLOK have been the most popular products for the group to date, however, requests for its Gold rated anchor have also began to ramp up. Hiplok products are distributed through Zyro-Fisher.
"Many of our locks are not only sold in bike shops but are used by stores in keeping bikes safe while on display. It depends whether the store's challenge is opportunist theft day to day or protection of bikes from more calculated theft attack such as when the store is closed," says John Abrahams, Co Founder.
The Z LOK works like a reusable cable tie but with a steel core for protection from cutting. Each staff member can be issued with a universal key so they can easily release the specific bike for demo, which provides an easier solution than a long cable through all bikes which needs to be removed each time one bike in the chain is demoed.
The AIRLOK is a bike hanger with an integrated Gold Sold Secure lock. Shops choose AIRLOK to display bikes on the wall in store while keeping them locked. They can also be fitted outside as has been the case in Look Mum No Hands in London.
Similarly, the ANKR Gold rated ground and wall anchor provides an ideal fixing point for customer bikes or service kerbside collection outside the store.
Kryptonite
Offering an array of premium security products that include D-Locks, Folding Locks, Chains and Cables.
Jon Maisey, Marketing Manager for Kryptonite Europe tells CI.N: "Our portfolio also includes security accessories such as ground anchors. With bike shop security in mind, our ground anchors and longer length chains would be an excellent consideration for any shop owner looking to improve their security and protect their stock."
Kryptonite's ground anchors allow you to fix to an immovable object as they can be bolted into the floor or wall. You can then take the Evolution (10mm six-sided chain links) or KryptoLok (9.5mm 4 sided chain links) chains and secure your bikes to the ground anchor. Additionally, the longer length chains are great for bike shops looking to secure several bikes at once.
Kryptonite also have KryptoFlex cables in different lengths up to 30ft. Cables are fine as a deterrent if the bikes are within sight, but the brand recommends using chains if the bikes are to be left unattended.
The Stronghold Anchor has a 16mm hardened steel shackle and is Gold Sold Secure rated. The Evolution Ground Anchor has a 14mm shackle and is Silver Sold Secure rated, you can also purchase a mounting kit that allows you to fix the Evolution Ground Anchor to a vehicle meaning you can secure your stock as it is transported. Kryptonite products can be purchased directly from their UK distributor, Madison.